Decorating envelopes is a great option for non-crocheters, young Magic Makers, and anyone wanting to get involved! Each Magic Yarn wig is delivered with a card in an envelope decorated specifically for that wig's character.
Envelopes must be WHITE, any brand, sized 5.25″ x 7.25."
Shopping tip for the U.S.: Michael's Recollections brand has 50 envelopes for $6.99, and you can use a 40% off coupon!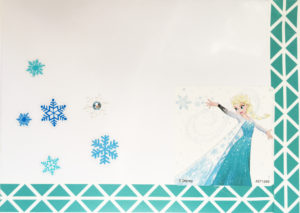 Decorate your envelopes with stickers, washi tape, and scrapbook stamps & ink.
Each envelope should be specific to one character per envelope (for example, only
add Elsa stickers and Elsa decorations to an Elsa envelope).
Each envelope should have at least 1 sticker picturing the featured character and several stickers or stamps that are representative of that character.
Make sure that stickers, washi tape, and stamps used match the theme and colors of the character.
Handwritten notes or children's drawings are not preferred.
Please do not write or print the character's name on the envelope. We stamp their signature on them. 
Please do not glue anything that isn't flat to the envelopes (folded pictures, 3D decorations, plastic gems, etc.)–these tend to come off in our packaging.
Leave the middle area of the envelopes blank so we have space for a name.
Please give or mail your decorated envelopes to your nearest Chapter or Region Leader: https://themagicyarnproject.com/map/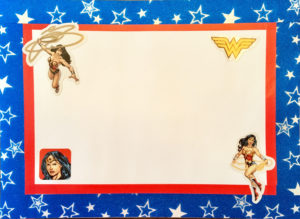 Characters to make:
Most Popular: Elsa, Rapunzel, Ariel, Rainbow, Belle, Moana, Anna, Jasmine, Captain Jack Sparrow/pirate, Batman, Captain America, Spider-Man, Superman, Teenage Mutant Ninja Turtles
Our other characters: Aurora, Cinderella, Merida, Pocahontas, Tiana, Wonder Woman, Captain Marvel, Flash, Green Lantern, Hulk, Ironman, Mickey Mouse, Minnie Mouse, Minion, Paw Patrol, PJ Masks