Get Involved with The Magic Yarn Project
Use our drop-down menu above to navigate, or view all opportunities below!
I want to help out from home, on my own time:
I have a group that wants to participate:
Host a Gift Card Drive
Donate Your Fundraiser
I live outside the U.S.: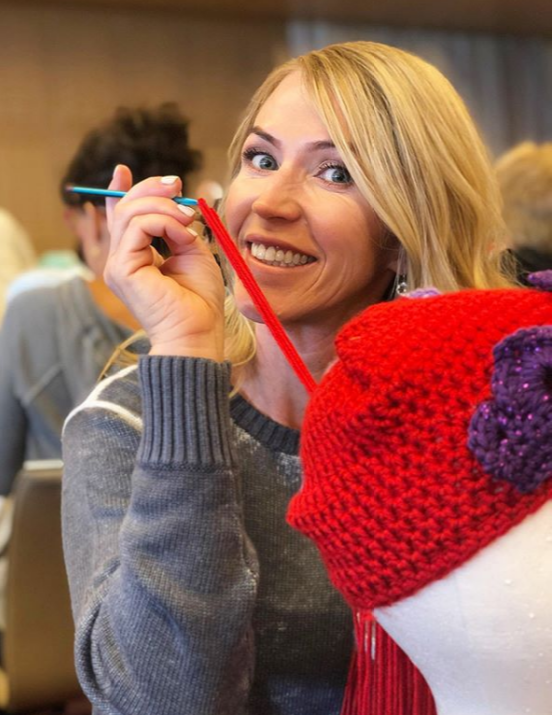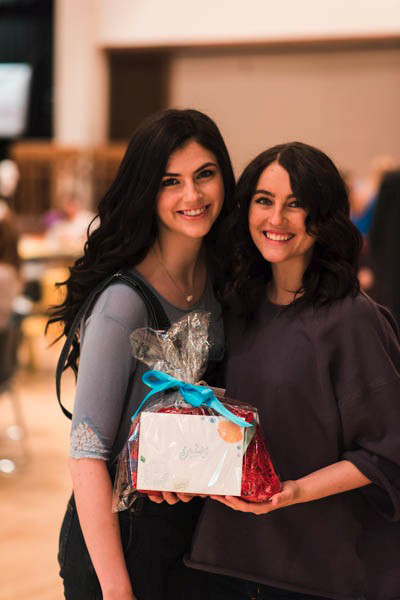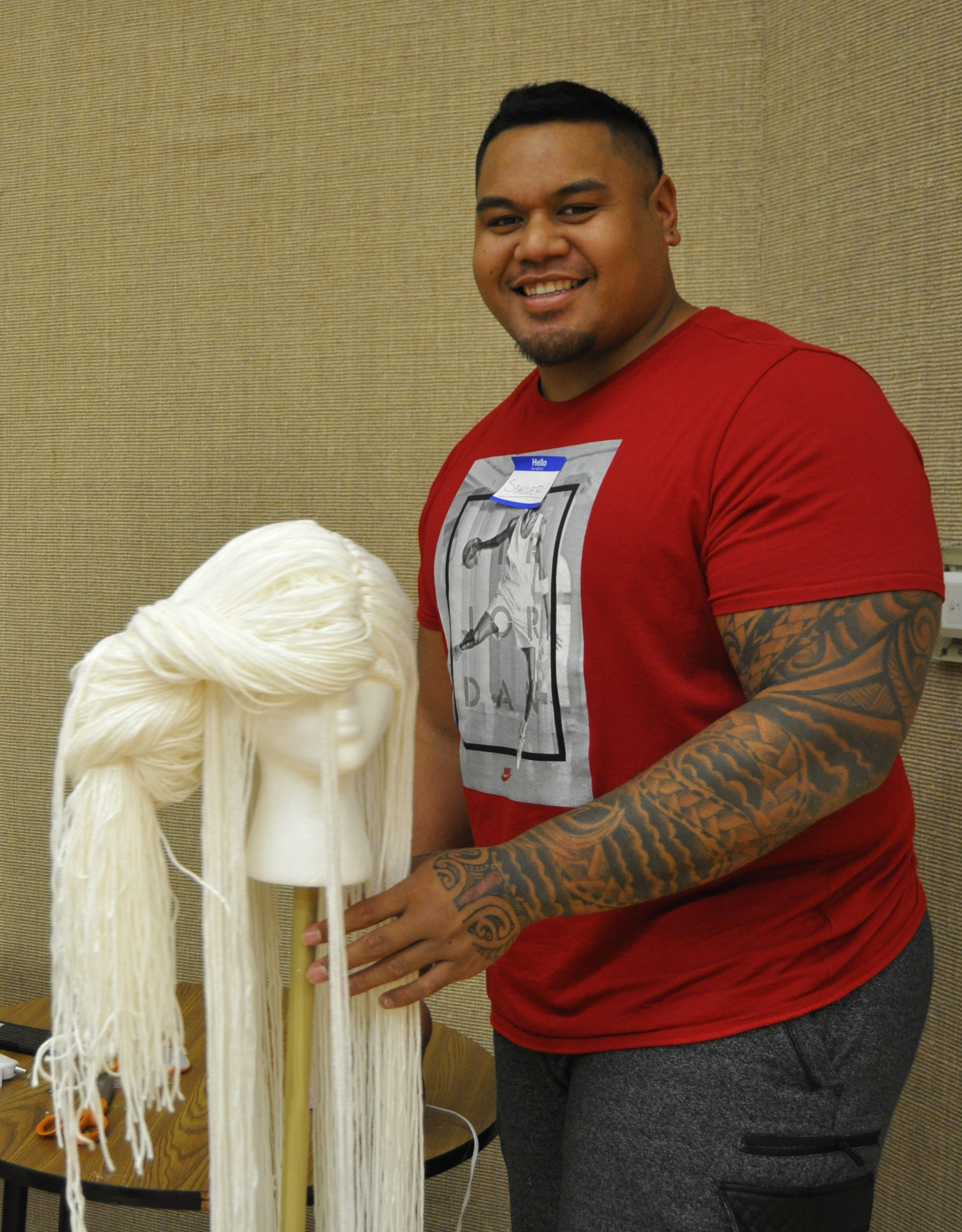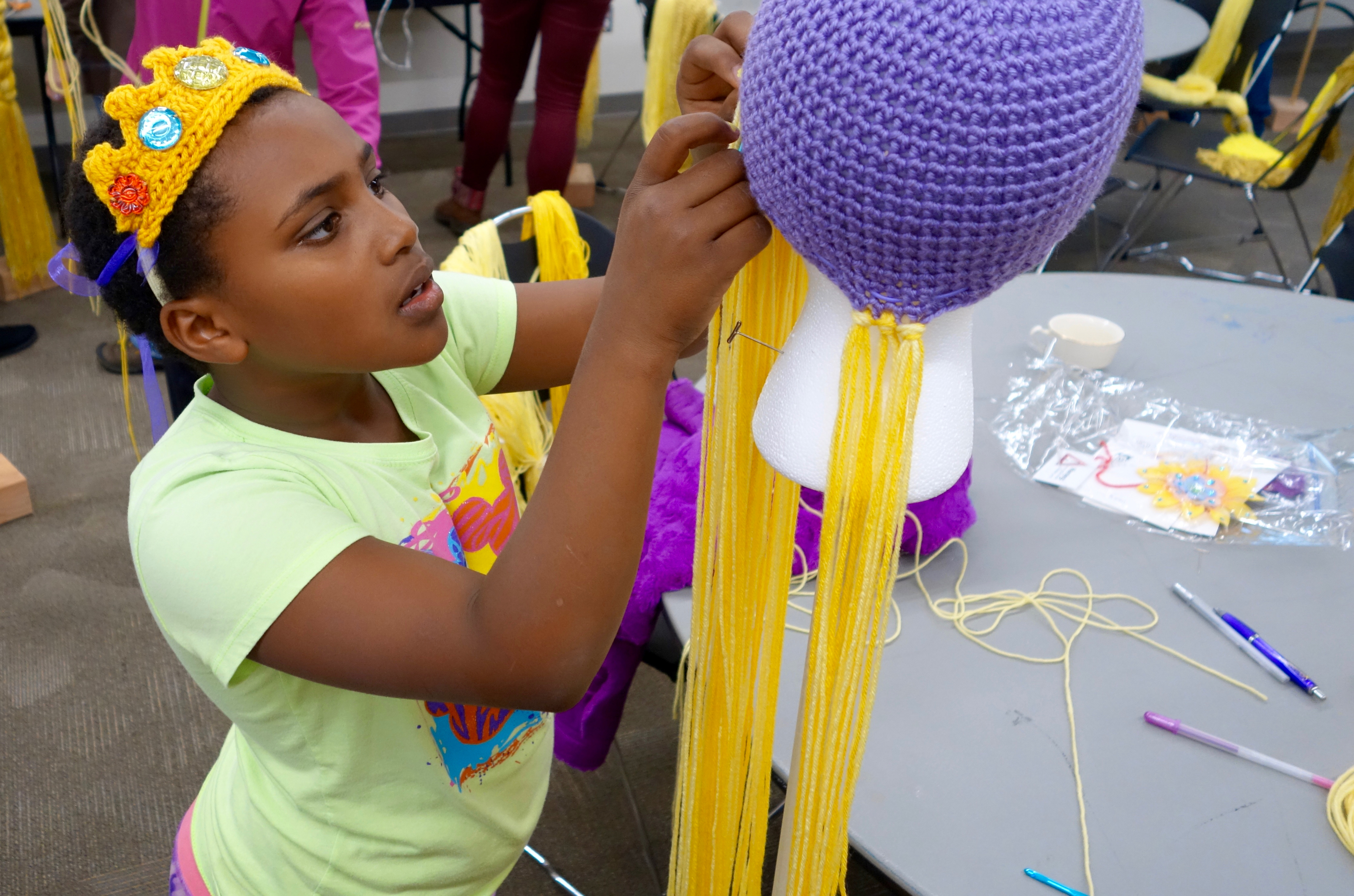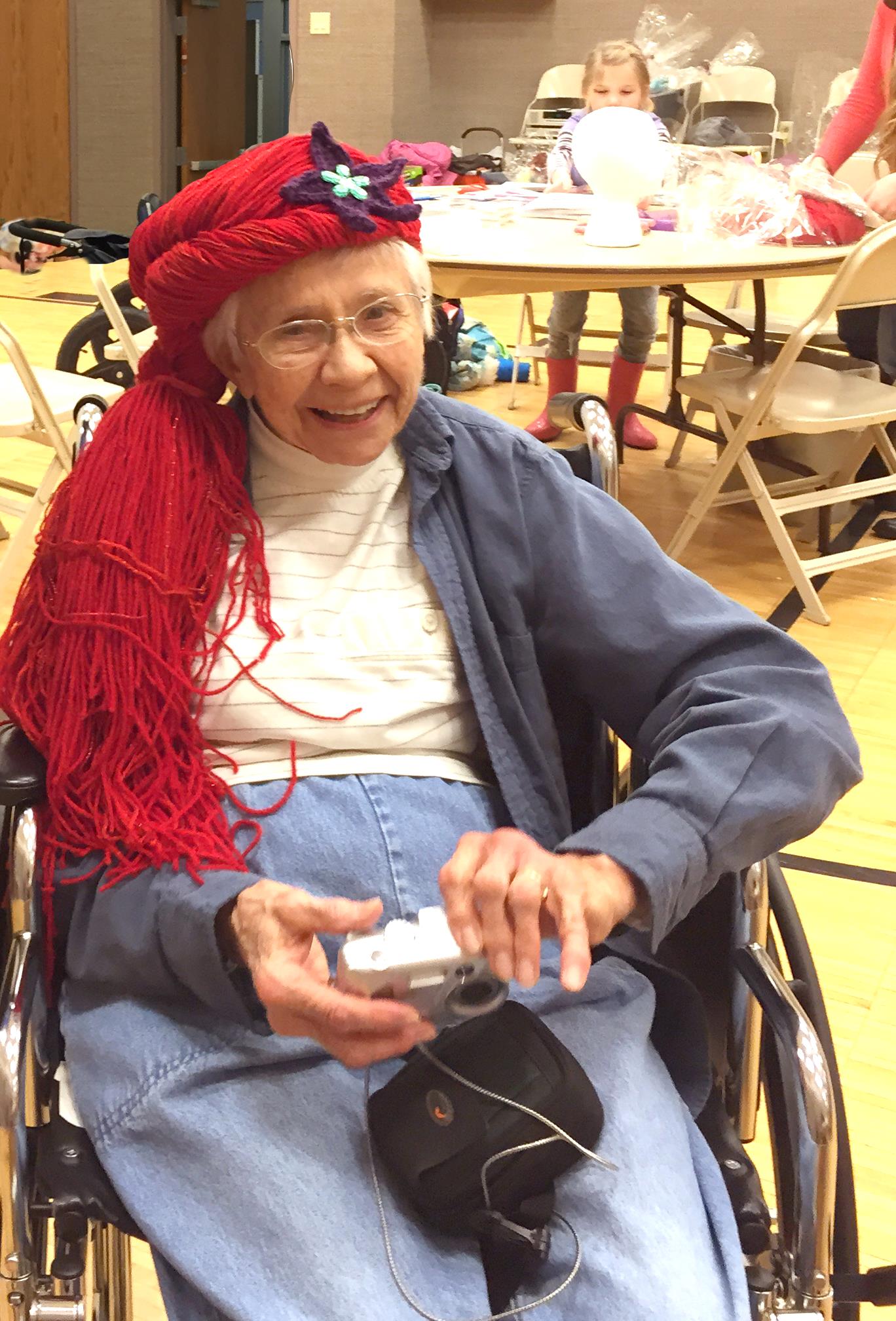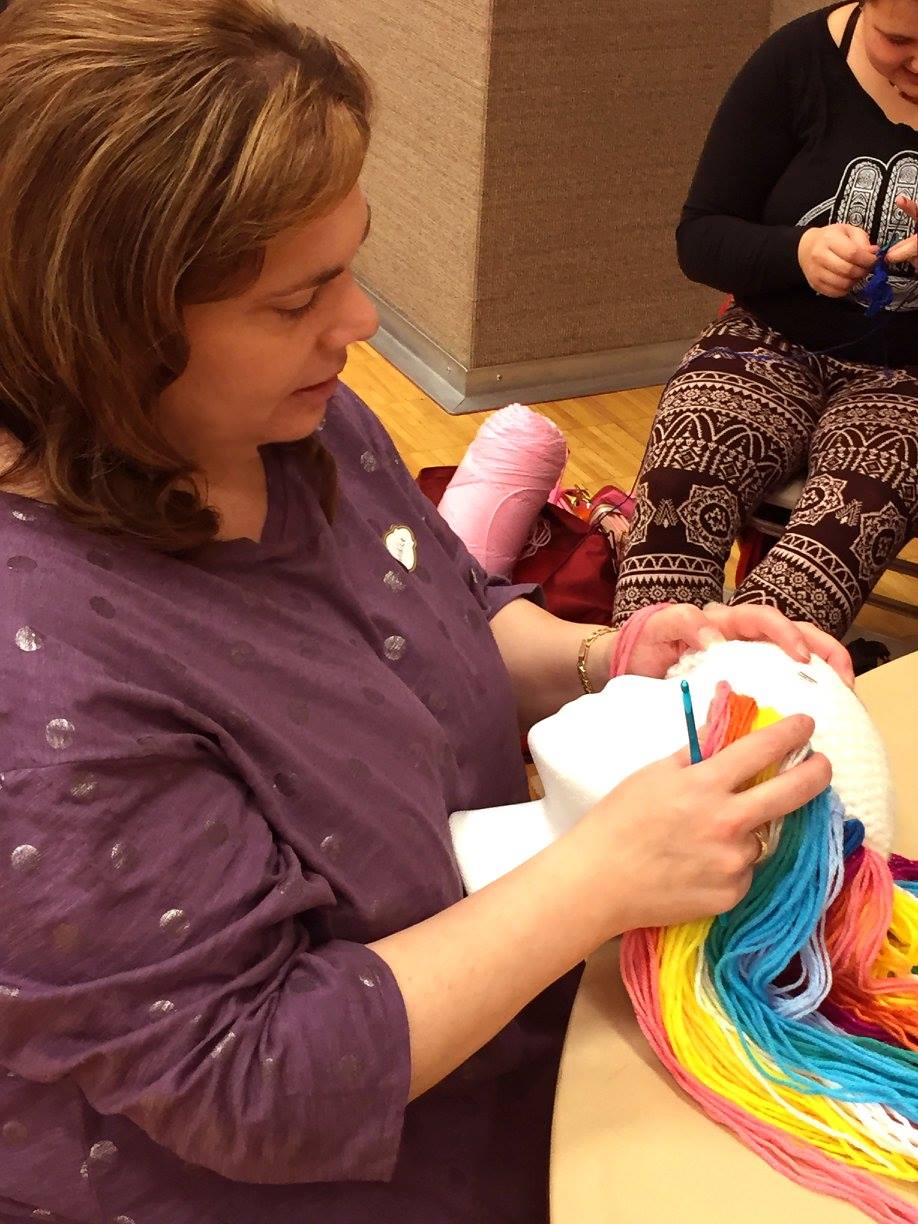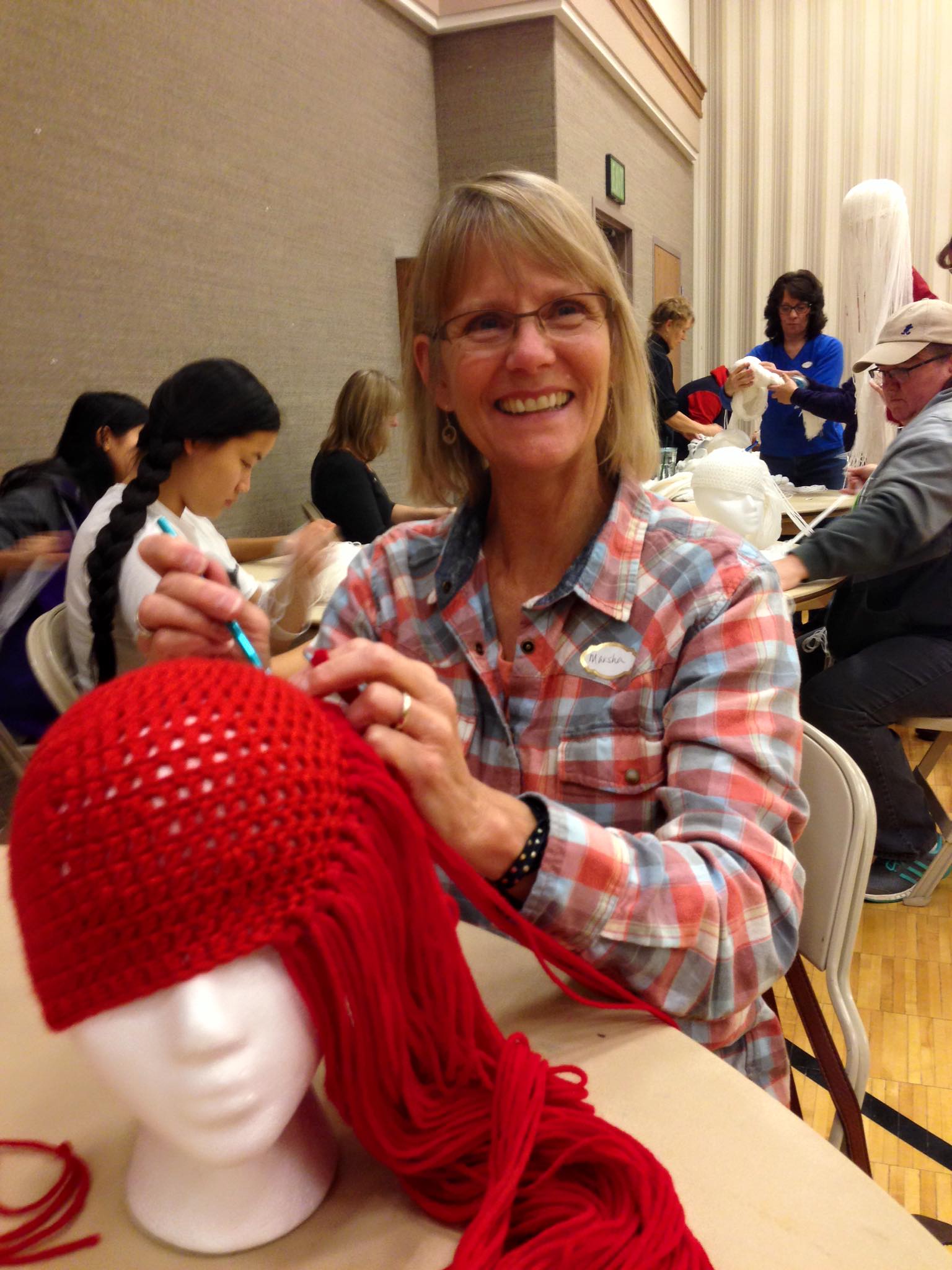 ---
We Need Knitting Pattern Testers
 Frequently we are contacted by "yarny" volunteers who want to help us out, but who knit instead of crochet. While our beanie pattern is crochet-only due to the dimensions and type of stretch that we need to be able to attach our wig "hair," we still love to see knitted tiaras, snowflakes, and starfish. But we need your help! We don't currently have any successful patterns that we can share with knitters. Can you help us find patterns for these items and test them out? We are looking for:
Knitting patterns for pretty tiaras. Tiaras need to be about 8″ to 10″ long, 2″ to 3.5″ tall, and to lay flat; see our

Tiaras page

for crocheted examples.
Knitting patterns for snowflakes. Snowflakes need to be about 5″ across and to lay flat; see our Snowflakes page for crocheted examples.
Knitting patterns for starfish. We like large (about 5″ across) and small (about 2″ across) starfish, and we prefer them to have five arms. They need to be able to lay flat; see our Starfish page for crocheted examples.
If you would like to help us find or create and test knitting patterns, please jump right in and email us with your findings! Please keep in mind that we are hoping to find free patterns. We are not able to share complete paid patterns (although we are able to pass along links to purchase patterns, for volunteers who would like to do that). Please tell us about your findings at info@themagicyarnproject.com with "Knitting Patterns" in the subject line. We may be able to connect you with other knitters to share tips and ideas!
---
We Need Gift-Givers
When you purchase Magic Yarn merchandise as a gift–for friends, family, or yourself–you are helping The Magic Yarn Project in more ways than one! 100% of the proceeds from each purchase go right back into making and sending more wigs to little cancer fighters. Magic Merch also spreads the word about Magic Yarn's mission!
Magic Yarn's merchandise sales are all single-run printings, for a limited time only. Be sure that you are following The Magic Yarn Project on Facebook to find out about all of our current and upcoming merchandise sales! And if you are interested in supporting Magic Yarn with a yearly membership (only $20/year, with oodles of amazing benefits!), you'll also receive a 20% discount on all merchandise sales. We love our magical supporters!
---
We Need Media Contacts
Do you have connections with a local newspaper, TV station, or other media outlet? Would you like to help us spread the good news about Magic Yarn? The Magic Yarn Project has been featured in press all over the U.S. and the world; you can see some of our press links here. We always love speaking with local news representatives!
If a Magic Yarn Region Leader or Chapter Leader is located near you, she would be happy to speak with you for phone or in-person interviews. View the map of our leadership here. If The Magic Yarn Project does not have a branch near you, we would still love to chat! Email our cofounder Bree at Bree@themagicyarnproject.com for more details.
---
We Need Hospital Contacts
It may sound surprising, but our biggest hurdle as a nonprofit is getting in contact with hospital staff!
We LOVE sending FREE boxes full of sparkly wigs and fierce character beanies to any hospital or cancer center serving children. We just need to know where to send them!
Know of a hospital staffer whom we could speak with? Please contact us at info@themagicyarnproject.com so we can be in touch.
Are you a Child Life Specialist, oncologist or oncology nurse manager, hospital volunteer coordinator, or other hospital leader?
You can request a customized box of wigs right from our website! Check out our request link here for all the details. 
---
We Need Grant Writers
The Magic Yarn Project is a 501(c)3 non-profit headquartered in Palmer, Alaska. Our mission is to bring magic into the lives of children battling cancer and inspire volunteerism to make a difference. We are the original and largest all-volunteer organization that creates handmade yarn wigs for children fighting cancer and other medical hair loss. The Magic Yarn Project seeks to hire one or more contracted Grant Writers. The position begins immediately upon Board approval.
POSITION DESCRIPTION:
The Grant Writer will familiarize her/himself with The Magic Yarn Project's programs, goals and financial needs. The Grant Writer will research, prepare, record, submit, and track grant proposals. If a grant-making organization requests additional information, the Grant Writer will serve as the primary point of contact for The Magic Yarn Project and will supply the missing items.
LOCATION:
The Grant Writer may work from anywhere with a reliable internet connection. The Grant Writer will be expected to maintain consistent digital contact with the Founders and/or Board, via email, phone, and video chat.
EDUCATION:
A Bachelor's degree is required; preference will be given to applicants with a degree in English, communications, business management, professional writing, or a similar field. Impeccable grammar and strong research skills must be demonstrated with work samples. Familiarity with non-profit operations is a strong plus. Preference will be given to applicants with grant writing experience.
COMPENSATION:
The Grant Writer will be secured as an independent contractor, and compensation will be paid as a percent of grant monies actually awarded to The Magic Yarn Project. Compensation will depend on experience/education and is subject to Board approval, with amounts anticipated between 1% to 5% of grant award amounts.
APPLICATION:
Interested applicants should send a current resume, work references with contact information, and two work samples demonstrating related research and writing skills to info@themagicyarnproject.com, with "Grant Writer Application" in the subject line. We will contact you when your application is received. If an applicant is selected for interview, applicant will need to familiarize her/himself with The Magic Yarn Project's website and Zoom videoconferencing software prior to the scheduled interview.
The Grant Writer position will remain open until filled. For questions, contact us at info@themagicyarnproject.com.
---
Interested in Hosting a Wig-Making Workshop for Your Group?
Have an employee training, scout group, girls' night, book club, church retreat, leadership seminar, or just a bunch of friends who would like to make some magic?
We would love to come to you! Magic Yarn workshops are free to host and tons of fun. 
Check our Magic Yarn leadership map here to find out if there is a Region or Chapter Leader in your area. 
No chapter nearby, but still interested in a workshop?
Looking to schedule workshops on your own time?
Consider becoming a trained workshop leader! Find out more here. 
Looking to volunteer as a group, but not sure if making full wigs is the right fit?
We love having volunteer groups decorate envelopes, bedazzle flowers, wind and cut "hair" yarn to length, and more. 
You can see more details and ideas here: Non-Wig Workshop Opportunities