West Coast Region
Threading Magic for Washington, Oregon, California, and Nevada
All donations made on this page will go directly to the West Coast Region
Support Chapter Leaders
What We Need
We need Lion Brand Yosemite yarn as well as Caron Simply Soft Party Yarn in Snow, Black, and Red. Bonus if you cut it using the directions HERE.
We specifically need striped Elsa and Anna beanies as well as Captain Marvel beanies! Patterns Here
We specifically need Anna, Jasmine, and Wonder Woman Tiaras!
Workshops
Stayed tuned!


Work towards becoming a Chapter Leader
Email
West Coast Region Email:
westcoast@themagicyarnproject.com
The Magic Yarn Project
Katie Powell
PO Box 650
Arroyo Grande, CA 93421
For UPS/FedEx:
Katie Powell
160 Station Way #650
Arroyo Grande, CA 93420
---
!IMPORTANT!
Make sure all shipped items are packaged in waterproof bags (Ziplocs, trash bags, etc) and please include a feedback form (click here). 
Region Leader Katie Powell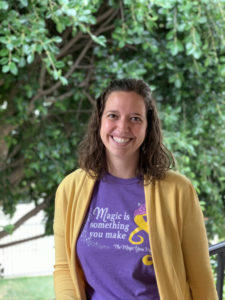 Katie first found Magic Yarn in May 2018 when her mother in law shared one of our viral videos. Since she loves all things crafty, Katie started to crochet beanies and wigs at home to send in. From her first wig (a Moana) completed that June, she was hooked! She quickly found a live workshop and drove 4 hours just to attend! Katie then realized she could combine her love of teaching with her love of crochet and crafts to serve with Magic Yarn, applied to become a chapter leader, and the rest is history!!