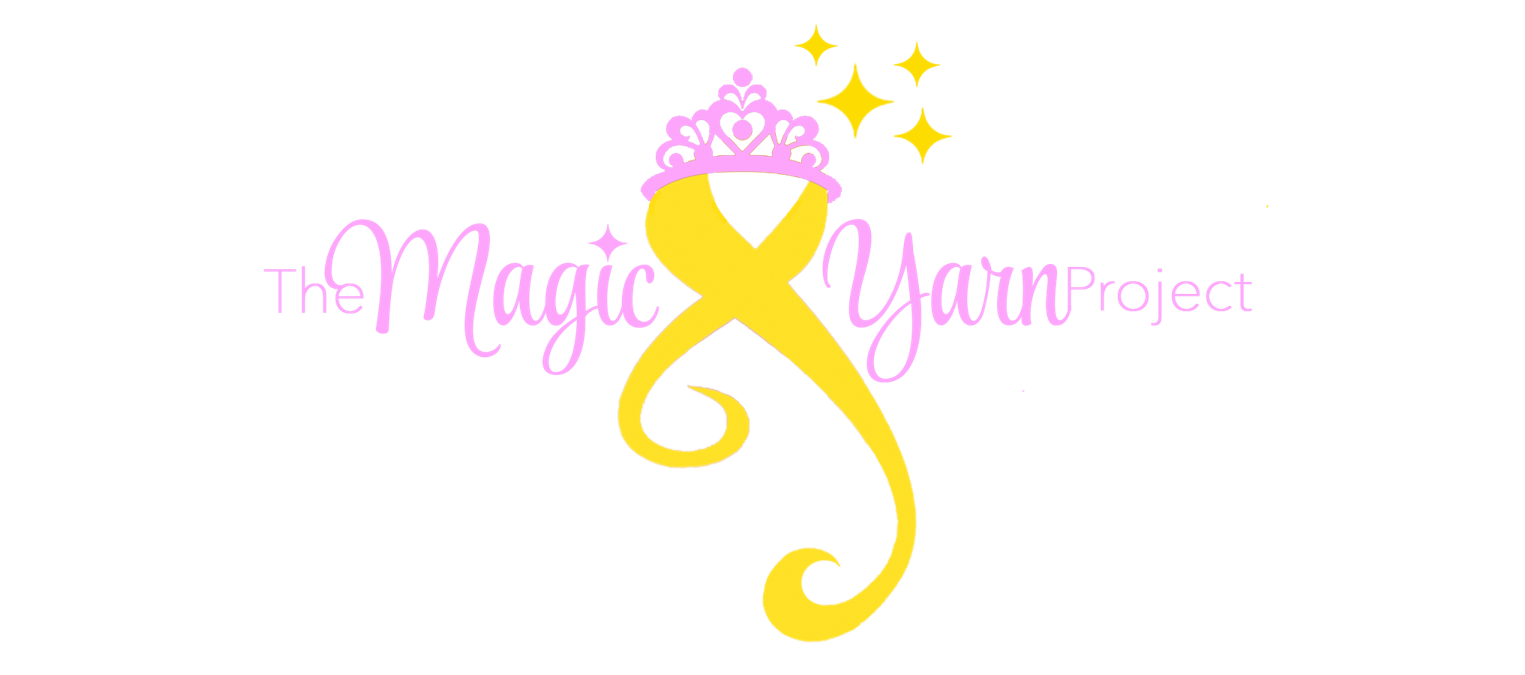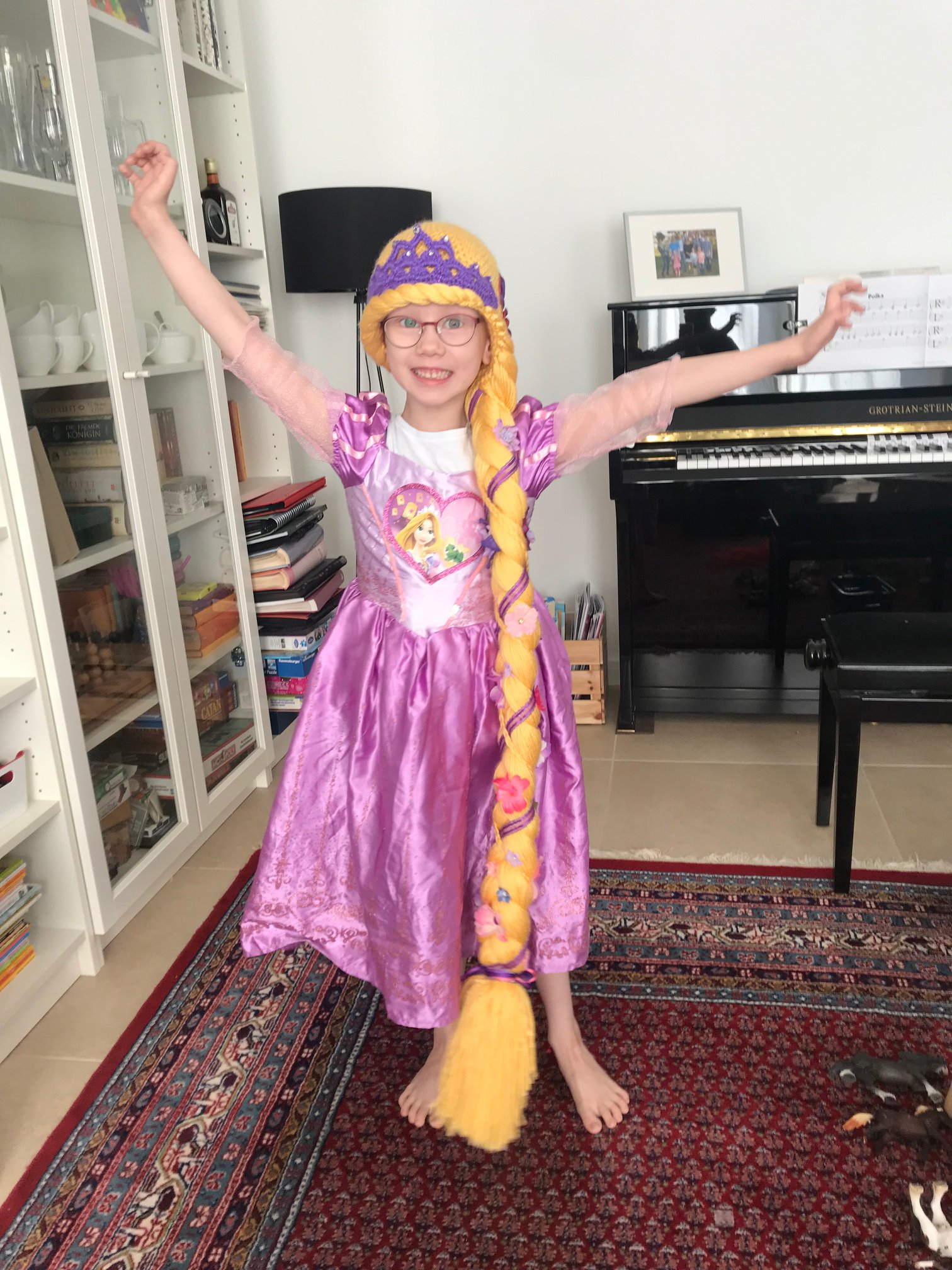 "All this giggly and smiling, dancing, child-like behavior has been hidden for so long behind being brave and enduring the seemingly endless therapy. Thank you so much for this priceless gift of being able to see that she still is - underneath all the grown up behavior - my little girl." 💞
Mother of Marlene, a 6 year old in Germany with kidney cancer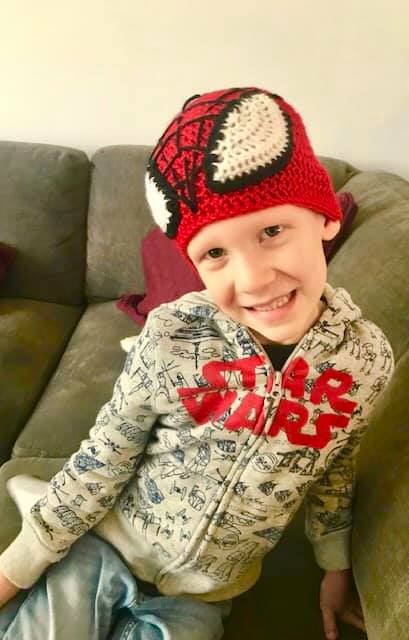 "It's so cute! Thank you for your time, creativity and love for kids with cancer. He's recovering from having his kidney removed two weeks ago- and he's doing great! We send you love and gratitude."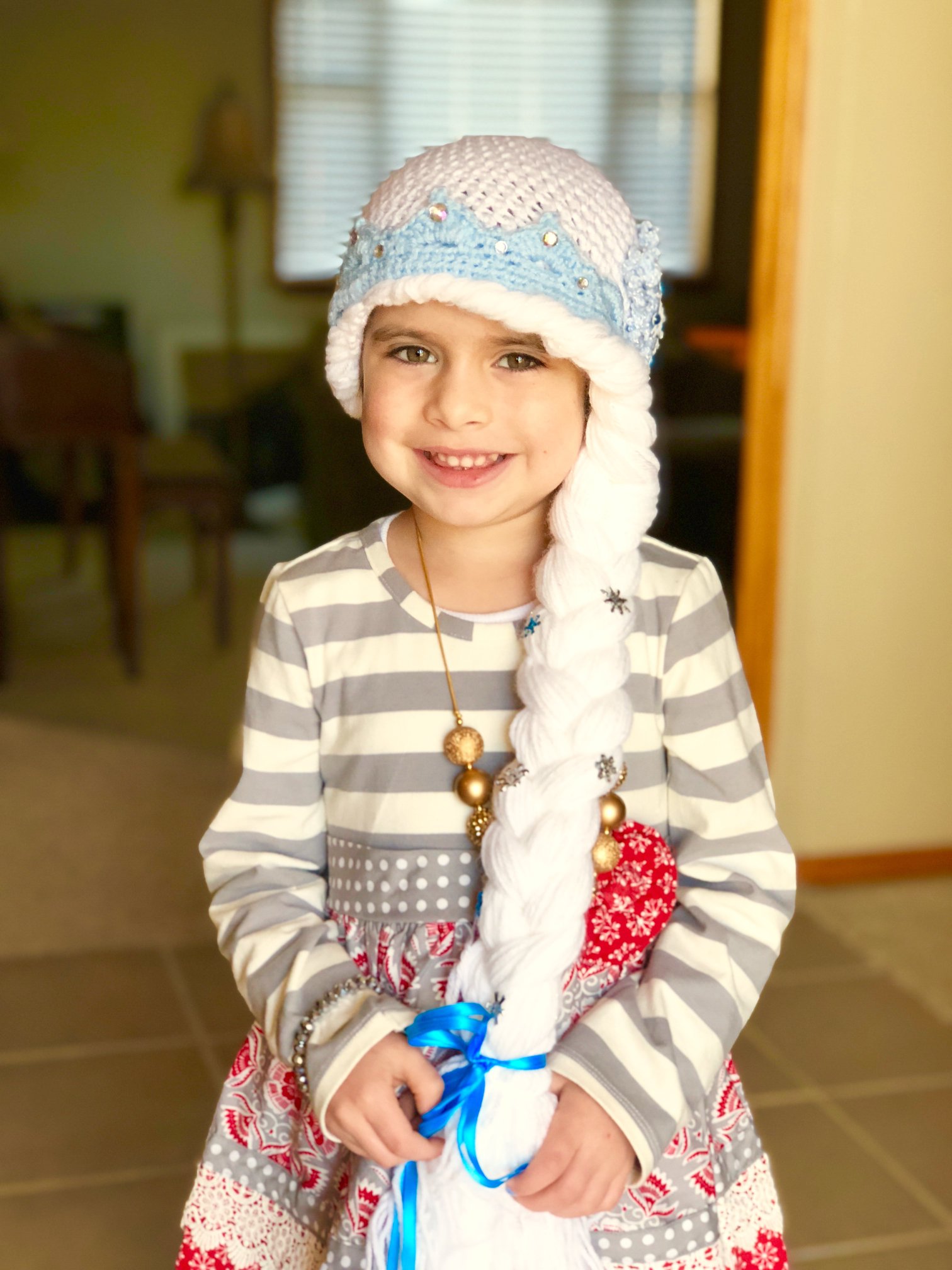 "She is kicking cancer's booty! She was so excited to receive this soft and beautiful Elsa wig to bring a little magic and play to her days, which are often less than ideal for any 4 year old."
Mother of Grace, a 4 year old beating cancer
Giggles Delivered Since 2015
Who We Are
The Magic Yarn Project is the original and largest organization dedicated to crafting imaginative yarn wigs for children with cancer and other medical hair loss.
We are a 501(c)3 nonprofit with tens of thousands of volunteers involved annually. From humble beginnings in a one-car garage in Palmer, Alaska, we have expanded to seven national and international Regions, over twenty Chapters, and dozens of workshop hubs all over North America. 
Through our patronage with Disney's Points of Light foundation, our leadership has received behind-the-scenes opportunities to see how Disney Magic works and infuse it back into our organization. We are inspired and invigorated by the characters beloved by so many children for generations!
What We Do

Chemotherapy treatments often leave tender young scalps too sensitive for traditional wigs. Our yarn wigs are comfy, soft, and warm! Magic Yarn 
wigs are inspired by the same Disney characters recognized by children all over the world, inviting them back to the world of play and daydreaming. They are beacons of fun, laughter, and imagination during painful and scary times. Our original Rapunzel wig design has now blossomed into more than 35 princess, pirate, superhero, and cartoon character wigs and hats for children to select from—all completely free of charge to the families who receive them, and all carefully designed to meet the unique needs of pediatric cancer patients.
Each one of our thousands of wigs sent annually is made by hand by multiple volunteers. In the last four years, our organization has mobilized over 60,000 "Magic Making" volunteers, from all over North America and from every walk of life. We are dedicated to spreading warmth and happiness not only in the lives of the children and families who receive our wigs, but also in the hearts of those who serve with us.
The Magic Yarn Project also provides leadership and business skill development opportunities for dozens of volunteers looking to grow with our organization. Through multi-day annual seminars and ongoing one-on-one training, we teach and support our Chapter and Region Leaders to become leaders in their communities. 
How You Can Help
Partner With Us
Our partnerships with organizations like the Leukemia and Lymphoma Society, Ronald McDonald House Charities, the For A Day Foundation, State Farm, Give Kids the World Village, and A Moment of Magic enable us to reach many times more patients than we would be able to on our own. We love working with many  diverse groups that support families with cancer and other populations facing medical hair loss — and we are always looking for more friends! Interested in joining us? Contact our co-founder Bree Hitchcock at bree@themagicyarnproject.com
 for more details.
Our Sponsors are the heart of our organization. They are the wish-makers of The Magic Yarn Project! Sponsorships are a unique opportunity for your group to connect with a strong and growing nonprofit and make a powerful difference in the lives of the most fragile children. You can find more information about our sponsorship levels and benefits here. Email our co-founder Bree Hitchcock at bree@themagicyarnproject.com and let's chat.
Help Us Share More Magic

We know that cancer treatment can be financially devastating to families–that's why we are committed to keeping our wigs 100% free to the patients who request them. This means that we rely on 100% donations for all materials, training, and shipping costs! We literally could not do it without the support of donors like you. Costs vary some by wig type and recipient, but on average, each wig takes just under $50 to produce and deliver. Whether you are interested in sponsoring one wig or one hundred, your support makes our hearts sing! Find out more about your tax-deductible donation here.
Interested in helping us gather  materials? Nearly all of the thousands of skeins of yarn that we use are collected locally by yarn drives and volunteer donations. You can find out more about hosting a yarn drive here. We also love helping you organize sticker drives, ribbon drives, birthday fundraisers, and more! Contact your Region Leader to find out how.
Spread the Word
To date we have been featured on media outlets as broad and varied as Disney's Babble, Oprah Magazine, and the Today Show. Every time The Magic Yarn Project goes "viral," we get a tidal wave of new Magic Makers and donations! Be sure to follow us on Facebook and share our posts that inspire you. You could be the key to our next viral surge!
We also love working with local news outlets. Featuring Magic Yarn Project workshops and events is an exciting way to showcase the good happening in your community. To find your nearest Magic Yarn Project representative, contact the Region Leader for your area here. We've always got something fun going on!
Get Involved
There is a way for anyone to get involved with The Magic Yarn Project! We love our volunteers from avenues as varied as women's prisons, Boy Scout troops, financial seminar retreats, and thousands of diverse individuals from the comfort of their homes. Use the menu links above under "Get Involved" and "Patterns" to find the right fit for you or your group.