About The Magic Yarn Project
Our Mission: To create magic in the lives of children battling cancer and to inspire volunteerism to help make a difference.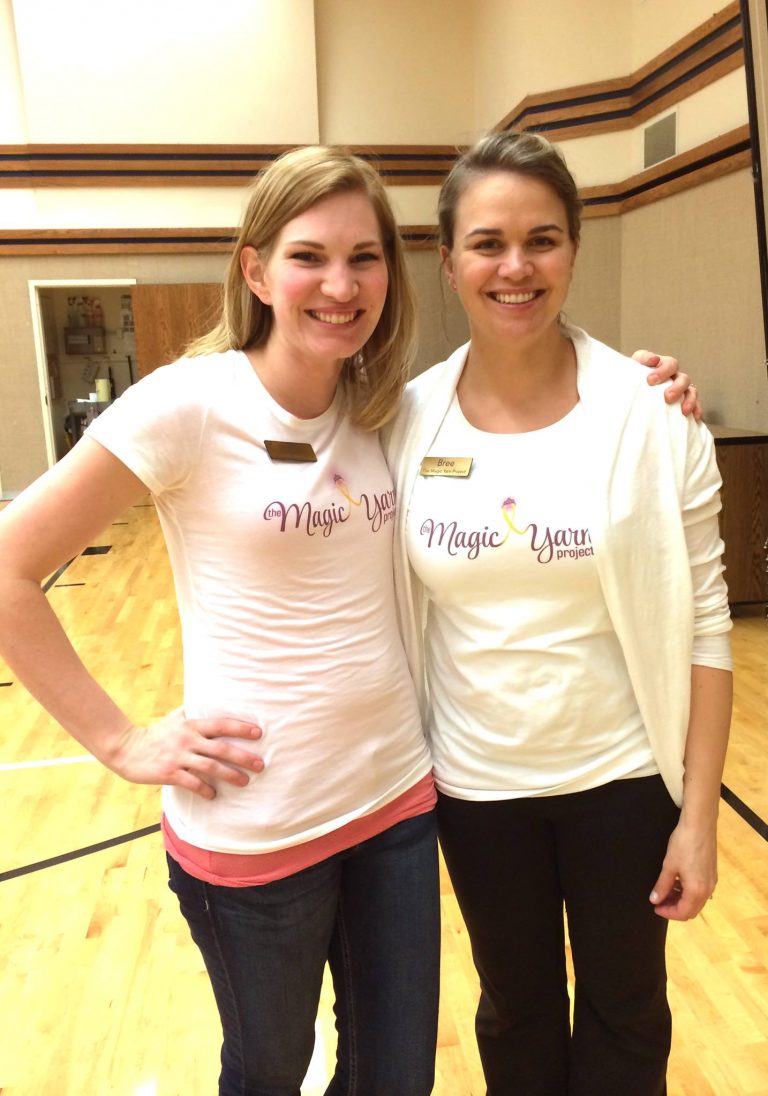 Founders Holly Christensen (left) & Bree Hitchcock (right)
Not so long ago, two moms started a project to make a few dozen princess yarn wigs for young girls battling cancer.
Chemotherapy treatments leave young scalps too sensitive for traditional wigs, but yarn-wigs are comfy, soft, and warm. Magic yarn wigs are inspired by beloved Disney characters, and invite children back to the world of play and daydreaming. They are a beacon of fun, laughter, and play during a scary time.
The Magic Yarn Project has received coverage by over a hundred internet media sources, magazines, and local news stories. The demand for magic wigs grows daily!  Every year, roughly 83,000 young girls, ages 2-10, are diagnosed with cancer (5,000 in the US).
Due to the popularity of these wigs, The Magic Yarn Project was born, a 501(c)3 non-profit organization.
Our growing organization is funded solely by donations and we are entirely volunteer based!
Please watch our 4 min video, and see for yourself that magic is something You can make: https://youtu.be/E9wtHskTI2g.
Yours in service,
Holly Christensen & Bree Hitchcock
About our Princess Wigs
Magic Yarn wigs are made with soft acrylic yarns, and embellished with gems, crocheted flowers, starfish and snowflakes, silk flowers, and nylon/polyester ribbons.
Volunteers send us handmade crocheted beanies/hats. At our workshops, we attach long strands of yarn and accessories to the beanies, and style them to resemble a variety of princesses. Our wigs are machine washable when placed in a mesh laundry bag. We deliver them in clear cellophane packaging with a whimsical greeting card and information on our project for their parents. Our wigs are made 100% by volunteers and funded 100% by donations of yarn and money.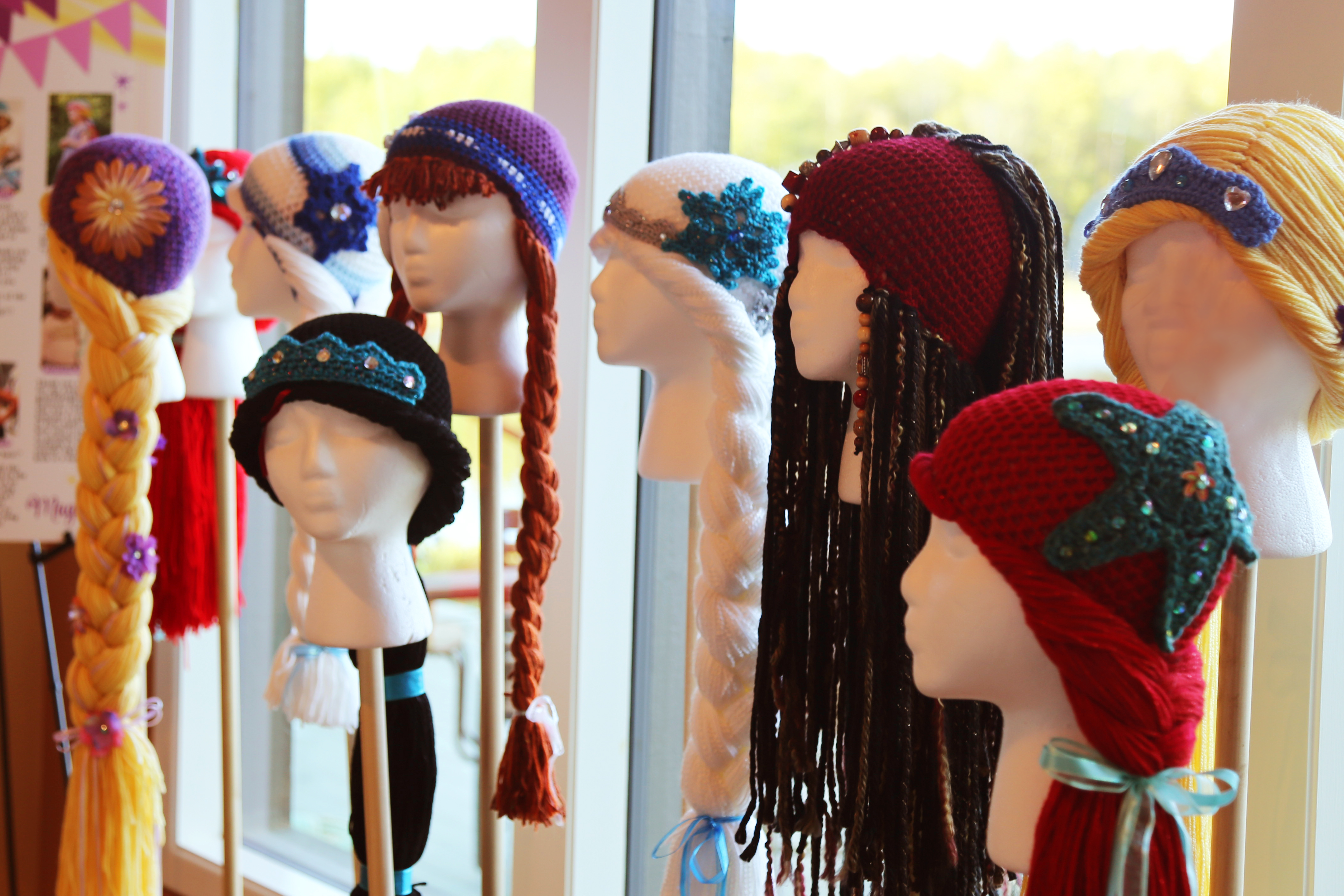 By the Numbers
(Updated Mar. 2019)
20,000= Wigs delivered               
40,000+ = Magic Makers (volunteers) involved 
50 = Countries shipped to     
$0 = Cost of wigs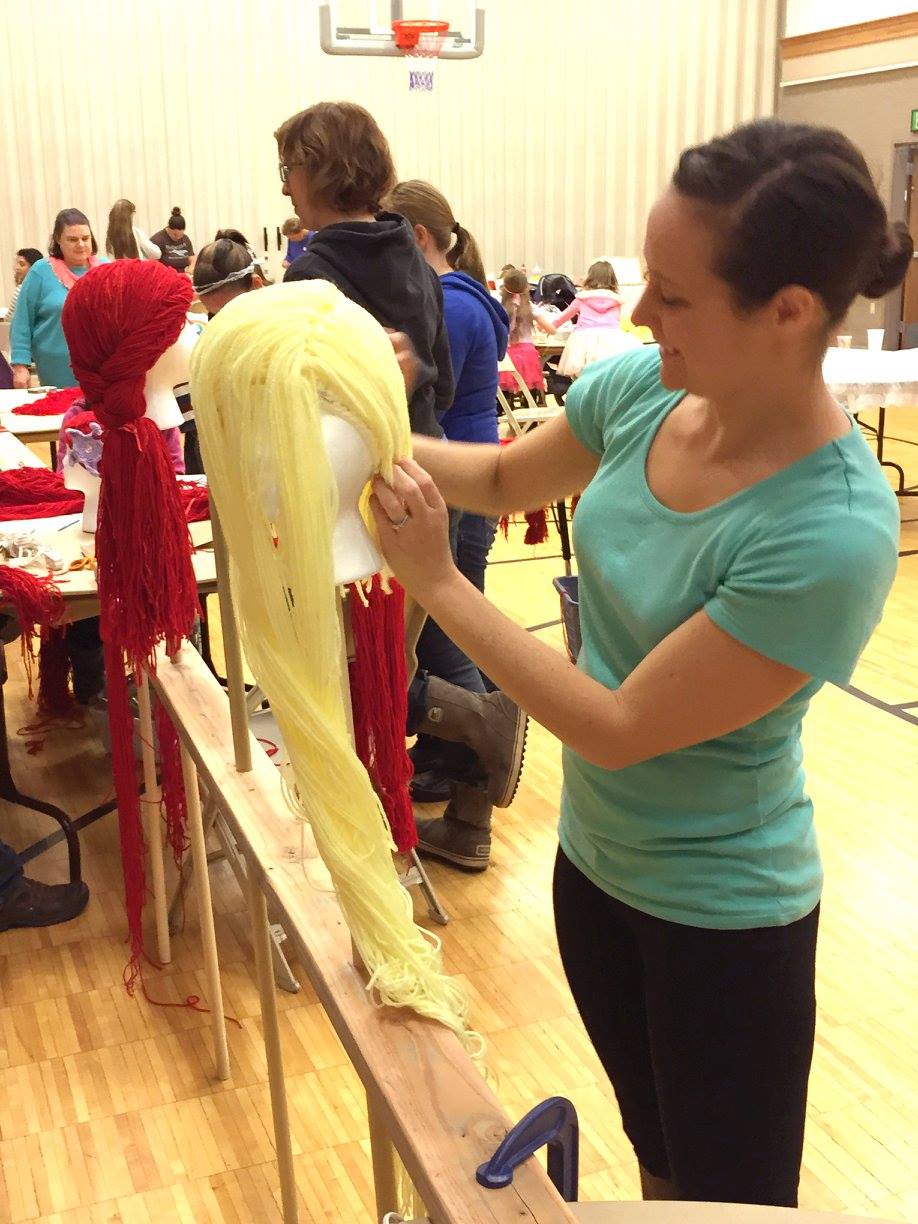 How it all started…
My name is Holly Christensen. I have often witnessed the scary and painful world of cancer as an oncology nurse, friend, and family member. I've always held my cancer patients very close to my heart. In 2014 upon learning that a friend's daughter had been diagnosed with cancer and would likely be in the hospital for a while, I began to think of what I could do to help bring some magic and light to this little girl's life during the trying days that I knew were ahead for her.
Knowing how difficult it would be for her to lose her beautiful blonde curls, I made her a Rapunzel yarn wig and sent it in the mail.
She was overcome with joy.
My friend remarked at how many other little girls in that hospital would love to have such a special gift as it had such an impact on her daughter's demeanor and happiness during her treatments.
I began to organize what I thought would be a small project creating a few dozen wigs to send to little cancer patients and put up a request on Facebook for yarn donations. Within hours, I was flooded with responses from around the world—mothers who wanted these wigs for their little girls who have cancer, complete strangers who wanted to help by donating money to buy yarn, professionals reaching out and requesting wigs for their hospitals
What started as a small project, has snowballed into something much bigger than I ever expected. Along with co-founder Bree Hitchcock, we have been overwhelmed with the donations and desire to help that has come from all over the world.
The Magic Yarn Project was created to answer the call to bring yarn wigs to little cancer fighters and to help community members get involved in the Magic Yarn Project.